Diamond 1st Year Birthday Gift
Jump to navigation
Jump to search
Diamond 1st Year Birthday Gift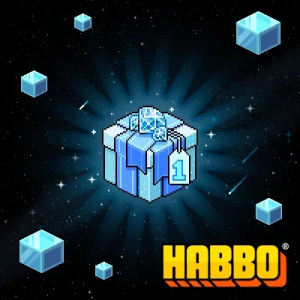 | | |
| --- | --- |
| Icon | |
| Quantity | 3,044[1] |
| Release date | 22 September 2022 |
| Dimensions | 1 x 1 x 1 |
The Diamond 1st Year Birthday Gift is a Gift Box given to Habbo VIP holders and for purchase in the Habbo NFT shop for 150 NFT credits. To qualify as a Habbo VIP holder, a wallet needs to contain at least 15 Habbo Avatars. Diamond Gifts contain the same furni as Basic Gifts, but have overall better drop rates.
A total of 9,157 Diamond Gifts were purchased and airdropped to Habbo VIP holders.
Airdrop
Habbo VIP holders received 2 Diamond Gifts on 22 September 2022, then 1 Diamond Gift each day from 23 September 2022 to 28 September 2022.

Crafting
The Birthday Cakes, Birthday Hats and Birthday Shades are craftable furni. They can be crafted according to the following table:
| Image | Name | Crafting recipe |
| --- | --- | --- |
| | Bigger Birthday Cake | 2x |
| | Even Bigger Birthday Cake | 2x + 100 |
| | HUGE Birthday Cake | 2x + 250 |
| | Gold 1st Birthday Shades | 3x + 50 |
| | Trippy 1st Birthday Shades | 3x + 250 |
| | Gold 1st Birthday Shades | 3x + 50 |
| | Trippy 1st Birthday Shades | 3x + 250 |
Drop rates
Each Birthday Gift contains one item with the following drop rates:[2]
| Image | Name | Drop rate |
| --- | --- | --- |
| | Gold 1st Birthday Hat | 15.00% |
| | Gold 1st Birthday Shades | 12.00% |
| | Bigger Birthday Cake | 11.00% |
| | Ship in a Bottle | 10.00% |
| | Half-eaten Cake | 10.00% |
| | Confetti Bomb | 8.00% |
| | Even Bigger Birthday Cake | 6.00% |
| | Metakrew Shroud | 6.00% |
| | MVHQ Coffee Machine | 6.00% |
| | CyberKongz Incubator | 6.00% |
| | Trippy 1st Birthday Shades | 3.00% |
| | Diamond Hand Chair | 3.00% |
| | Trippy 1st Birthday Hat | 2.00% |
| | HUGE Birthday Cake | 2.00% |
See also
References